The Organisational Structure
The St Spyridon College organisational structure aims to create a Kinder Minus One -12 experience for St Spyridon College students that is focused on their learning and maturation needs at each distinctive phase of schooling. A safe and secure context of known and trusted adults, within which to grow and learn. The school is organised into two Sub-schools and five Learning Teams as follows: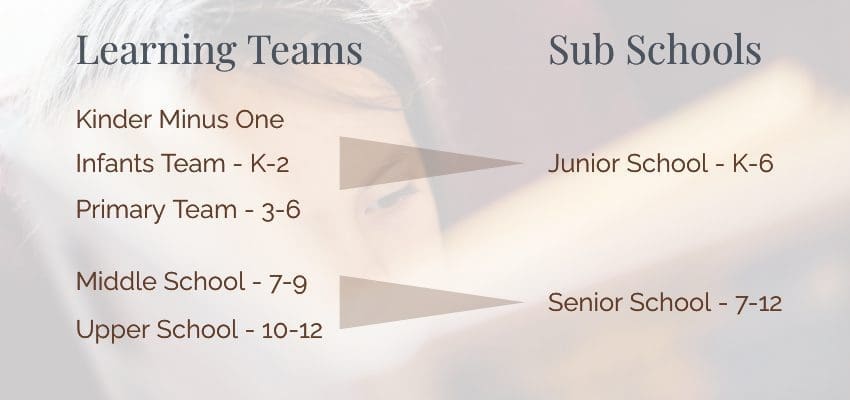 The Sub-Schools and Learning teams:
Create for teachers and learners a sense of belonging, and a context for building trust and confidence.
Enable parents to relate to a team of teachers as well as a body of parents with ease and confidence.
Provide teachers with a shared context for managing the pastoral care and learning needs of a definable group of students.
Foster a student-centred, reflective and responsive professional culture.
Develop shared expertise on educational issues pertaining to a specific cohort of students.
Provide students with learning contexts where there is sustained and purposeful contact between older and younger students.
Develop students' skills to manage relationships at various levels, to learn from others and to teach others. Within this context they develop responsibility and leadership skills.
Develop learning communities within which learners and teachers know each other well.
Maintain and strengthen a sense of community and connectedness across the whole school.
---