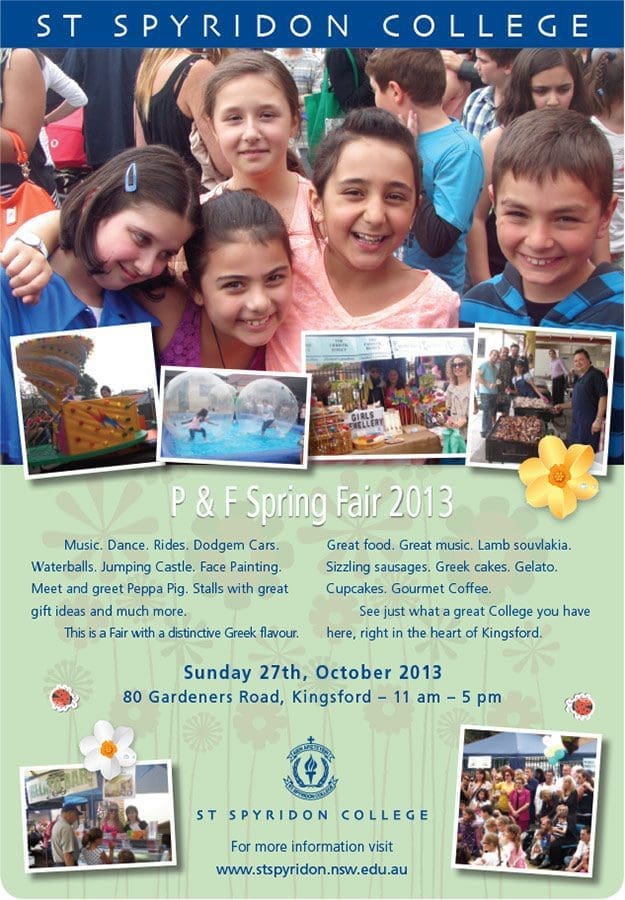 You Are all invited to the P&F Spring Fair 2013
Thrill seeking rides
Dodgem cars, Water Balls, Aero jump, Jumping Castle and more.
Entertaining Greek Music & Greek Dancing!
Fun Activities – Airbrushing Body Art, Face Painting, Meet and greet Peepa Pig & New Challenging games
Fabulous Food & Drinks – Lamb & Chicken Souvlakia, Sizzling Sausages, BBQ Haloumi, Sensational Seafood, Loukoumades, Cupcakes, Coffee, Greek Savoury Pastries & Sweets, Fairy Floss, Gelato & More!
Shopping Stalls to satisfy all – Jewellery, Bags & Accessories, Spring Flowers & Plants, Artworks, Bilingual Books, Gifts, Childrens Accessories, Toys, Fairy Accessories, Treasured Goods and more.
Famous Students' Artworks!
Too Good to Miss!