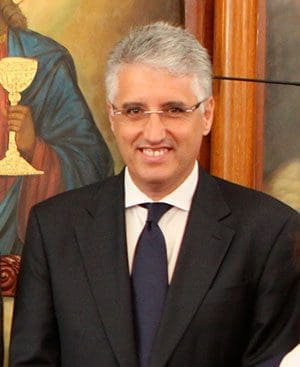 We congratulate Mr Nicholas Pappas AM, for his appointment to the "Member (AM) in the General Divisions of the Order of Australia".
Mr Pappas was inducted as a Member of the Order of Australia (AM) for his long and significant services to Rugby League, the Arts and the wider Greek Australian Community.
Nicholas George Pappas AM was born on 1 March 1961, in Sydney, NSW and of parents George Nicholas Pappas AM,MBE and Marina (nee Georgouras).
Mr Pappas obtained his Law degree at the University of NSW, and later obtained a PhD in economic history from Sydney University. Since 1984, has practised as a Lawyer and, in 1996, he established his own firm Nicholas G. Pappas and Company, specialising in commercial litigation in the superior courts.
Mr Pappas has also served as a Director on a number of Public and Private Boards, including:
Director of Laiki Bank (Australia) Ltd (now Beirut Hellenic Bank) since 2001 and Chairman since 2006;
Trustee of The Powerhouse Museum between 1999-2010 and President of the Board of Trustees between 2003-10;
Currently, Chairman of the South Sydney District Rugby League Football Club over an eight year period since 2003;
Chairman of the South Sydney Members Rugby League Football Club;
Chairman of Souths Cares, the community development arm of the Rabbitohs;
Secretary of the Archdiocesan Council and Trustee of the Greek Orthodox Archdiocese of Australia Consolidated Trust; and
Member of the Board of Governors, Steve Waugh Foundation – Australia.
Director for ten years with the Castellorizian Club and President from 2000 to 2002;
Mr Pappas has also produced the following publications:
Castellorizo: An Illustrated History of the Island and Its Conquerors, Halstead Press, 1994;
Embers of the Sea: The Empire Patrol Disaster – 1945, Halstead Press, 1995;
Near Eastern Dreams: The French Occupation of Castellorizo – 1915-1921, Halstead Press, 2002;
An Island in Time: Castellorizo in Photographs – 1890-1948, Halstead press, 2010;
Various other articles in academic journals and other publications on European History, the Law and Rebetika.
Nicholas is married to Helene, also a lawyer, and is the proud father of twins George and Marina.
We are proud to have such an esteemed and dynamic Australian as part of our St Spyridon Community.