Destinations of year 12 Class of 2020

Undergraduate Degree Destinations

Destinations by Course Type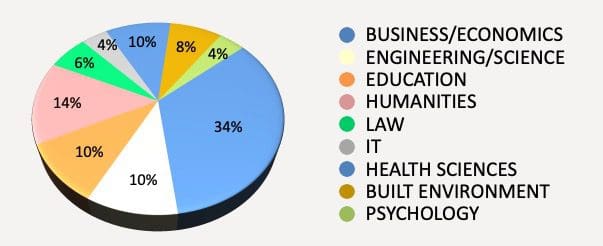 HSC Class of 2020 – Highlights
Congratulations HSC Class of 2020. Top 11% of schools in NSW. There were also 10 accelerant students from Year 11. They studied Modern Greek Continuers and Modern Greek Extension 1. We congratulate our students on their achievements and wish them well in their tertiary studies and future life choices.
Highlights include:
Peter Ganis, ATAR 98.15, Professor Manuel Aroney Award and University Scholarship recipient.
Paris Mousamas ATAR 97.60, University Scholarship recipient.
Mihalis Dovellos, Top Achiever 5th Modern Greek Continuers in NSW.
25% of students with an ATAR over 90.
26 Distinguished Achievers (results 90% or above in a subject).
20% of students have results 90% and above in a given course.
Out of 56 students 54% have results 80% and above in a given course.
The Sydney Morning Herald School Ranking of 74th puts us in the top 11% of schools in NSW.
Efthimia Kollias and Roza Papas were nominated by NESA for possible inclusion in the 2020 HSC SHAPE Exhibition, the annual exhibition of a selection for exemplary Major Projects developed by HSC Design and Technology, Industrial Technology and textiles and Design students.
OnSTAGE nomination – Frances-Lee Pascalis was nominated for her individual performance "The Libertine". OnSTAGE is a presentation and exhibition of group or individual performances and projects by HSC Drama students.