One of St Spyridon College's 2008 school leaders speak about their life at St Spyridon College.
Danielle Theodosi,
Prefect and Sports Captain 2008 says: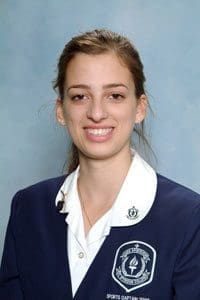 "As a school prefect, I endeavoured to set a good example to the younger students by wearing my school uniform proudly and behaving in a courteous and respectful manner.
Being a Prefect allowed me to pass on to younger students some of the values which I have been privileged to learn about friendship, respect, decency and compassion. It also allowed me the opportunity to pay back to the school community, after gaining so much over the twelve years of my schooling."
Danielle has received a scholarship for the Bachelor of Accounting program at the University of Technology, Sydney, which is one of Australia's premier business degrees. It was designed to meet the needs of employers for multi-skilled accounting graduates who can then become the business leaders of tomorrow.
Thirty of the biggest employers in the country invest $1.5 million in this program each year. There is a rigorous application process including an application and an interview.
Each student must also receive a UAI of at least 95. Only about thirty students are accepted into the program each year. Each student receives a tax-free scholarship worth up to $40 000. It is an intensive three-year degree course which includes two years of full time study and two separate half-years of full-time work training.
The employment record of these students is 100%.