One of St Spyridon College's 2008 school leaders speak about their life at St Spyridon College.
Natasha Diasinos,
College Dux and College Captain 2008 says.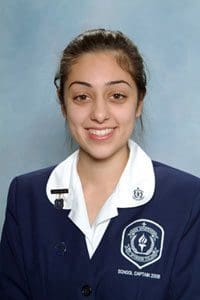 "I would like to make reference to part of our College mission. "At St Spyridon College, we aim to educate our students to take their place in a rapidly changing world with confidence and success. We endeavour to develop the whole person- strong in mind, healthy in body, endowed with love, faith and compassion, able to make a conscious and positive contribution to the well being of our Australian community." At St Spyridon College, we are made to feel that we belong.
We have the ability to pull together, not only as a community but as a close knit family. A perfect example of where we demonstrated this was in our celebrations of Greek Independence Day and the Annunciation of Our Lady. Together we gathered to commemorate this double celebration and in doing so, re-established the values that hold us together. The Student Principles are an outline of the morals and values that each and every one of us lives by and are the common elements that keep us united. These principles enable us to define our role as students and as members of the St Spyridon team. We have our place and this consequently provides us with security, confidence, and a knowing that if we so happen to fall, there will be people who are waiting to catch us.
Student Principle No. 3 says, "We work together to achieve a school community whose distinguishing characteristics are those of friendship, compassion and decency." Our respect for one another enables us to act as a team and so we bring a new dimension to the term success. We are successful in all that we do because we try our hardest and apply 110% effort in every task that we tackle; and even if we are not winners, in the end, we are successful because we know we have done our best. This is why we are victorious in the Independent Sporting Association competitions, this is why we are winners in Public Speaking Competitions; this is why we create outstanding theatrical productions and finally, this is how we are able to overcome the most difficult of times.
Student Principle No. 9 states "We respond to the difficulties in life with patience, dignity and faith, never fearing to start again." At St Spyridon, we have confidence in who we are and what we believe in. Consequently, when faced with any problem, we treat it as a challenge knowing that God sends us these challenges with a purpose. So we take comfort in knowing this and we learn from these experiences, simultaneously growing as individuals.
How effective is a leader if they are not proud of who they are, or if they do not recognize their own place in a community, in a society or more importantly in the group of people that they are leading? An individual must know themselves and be able to lead themselves before they take on the challenge of leading others. One of our school's many aims is to build leaders out of all of us and by providing opportunities where individual students can illustrate their qualities and develop their skills, such as being part of Student Representative Council, our teachers are doing exactly that. Not only is this beneficial for us now, but also in the future so that we can all be useful citizens in our Australian society.
Εvery single one of us at St Spyridon College has their place. We are proud of who we are and we embrace our culture and stay true to our faith. "
Natasha was the recipient of three scholarships, the St Spyridon Parish University Entrance Scholarship of $3000 towards her first year of university fees, the University of NSW AAA Scholarship and the Sydney University Greek Society (SUGS) Aroney Award.
She has been offered a place and accepted to attend The University of NSW Bachelor of Commerce/ Bachelor of Science degree.