Helping to lower our footprint on the environment
Climate change is the most significant threat to life on Earth. One way to slow the current rate of global warming is to get each individual to make small adjustments to the way they live.
Like many business throughout the world, we will be turning our lights off at 8:30 pm on Saturday 23rd March 2013.
We can all make a difference by getting involved with this world wide campaign.
To be a part of this or to get more information please click here.
I will if you will
Between 8:30pm – 9.30pm on Saturday 23 March 2013, lights will switch off around the globe for Earth Hour and people will commit to actions that go beyond the hour.Dare the world to save the planet
Earth Hour started in 2007 in Sydney, Australia when 2.2 million individuals and more than 2,000 businesses turned their lights off for one hour to take a stand against climate change. Only one year later, Earth Hour became a global sustainability movement with more than 50 million people across 35 countries participating. For the first time global landmarks such as the Sydney Harbour Bridge, Golden Gate Bridge in San Francisco, and Rome's Colosseum to name only a few, all stood in darkness, as symbols of hope.
The reason – our planet is in serious need of our help. As energy demands and carbon emissions continue to rise, and the negative impacts of climate change increase, we must stop burning fossil fuels to meet our energy needs. With electricity prices skyrocketing, there has never been a better time to switch to clean, renewable energy
Why get involved?
Put simply, because our future depends on it!
Earth Hour has done a lot to raise awareness of sustainability issues. But there's more to it than switching off lights for one hour once a year. It's all about giving people a voice and working together to create a better future for our planet.
What St. Spyridon College is doing…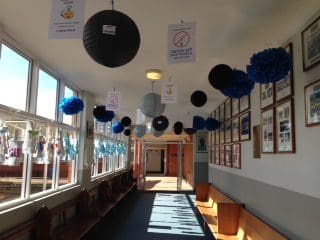 St Spyridon students dedicate Period 4 of each day to Earth Hour.
Signs went up this week in all rooms, the library corridor has been decorated with lanterns, some of which were made by our Year 7's, to remind everyone about conserving our resources and switching off non-essential lighting across the school, especially during period 4. One of the jobs of each class Student Council Representative is to assist their peers and teachers with remembering that Period 4 each day is St Spyridon's Earth Hour
---
INTERNATIONAL WOMEN'S DAY
Recently Sandra Milisavljevic and I visited NSW Parliament House on International Women's Day (Friday 8th March). There we discussed female rights and what it takes to be a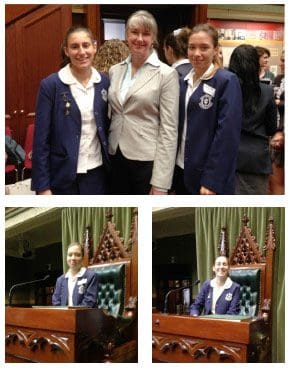 successful leader. We represented our school throughout the day and thoroughly enjoyed this rare experience. We met many accomplished women such as The Chief Scientist for Australia from 2008-2011, Professor Penny Sackett. They shared their stories, and life experience to demonstrate how they have contributed towards the recognition of equality for women. During Ms Quentin's talk about what it takes to be a leader she shared these words of wisdom: "Don't try to be superwoman, don't try to be perfect". In other words, try your best and strive to achieve your dreams and goals, but don't try to be perfect; no one is perfect. Another inspirational speaker named April stated that there are still many limitations today because of being born a woman. She advised us to "take these limitations as opportunities and try and move forward … see these negatives as positives of being a woman".
Following the talks we were given a tour of some of the rooms in Parliament House such as the Legislative Assembly Room where we were fortunate enough to be able to sit in Madam Speaker's chair (as shown in the pictures below). In these rooms we were told that it was in these rooms that the laws relating to women's status were changed over time, and from where future successes will originate. Overall, the day was a very inspiring experience and both Sandra and I were very appreciative for being able to attend this event.