We love the sense of community we have at our school and this was evident to the P and F Committee over the past two weeks. Firstly on the 24th March, a special thank you goes to the parents outside the P and F committee who assisted with distributing the snacks and water to all our children. Lots of hands did make light work and ensured the kids were happy very quickly after a hot morning.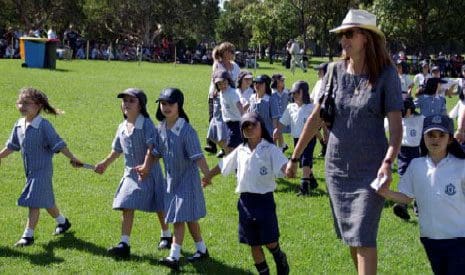 We were so proud of our teachers and students turning up and looking so smart and beautiful and celebrating a significant day in our history.
Secondly we have had overwhelming support from ladies outside the P and F in the decorating of our lambathes this year. It is much harder than it seems to decorate candles to a professional standard. It takes a lot of time, love and a special knack (speaking from experience, having tried myself last year and admittedly not being very good at it). We have our P and F decorating champions who do a tireless and amazing job each year, but this year our team has had assistance from other families and the candles are ready and look amazing. Please support their effort and purchase your Easter candles from our stalls. This year we also have other items on sale, so drop on by and have a look.
Located in the Junior School grounds, Easter stalls start next Monday 8/4/2013 and will continue through to the Wednesday Junior School Easter Assembly on the 1/5/2013.
Further to this week's theme, we have had a lovely donation from Mr Hamer of a HUGE Easter Egg Hamper to raffle off at the Junior School Easter Assembly on 1/5/2013 – look out for the tickets which will be sent home with the Junior School children. Be in it to win it!
Join us for Palm Sunday Lunch in the Church Hall for our first major Fundraising event of the year, where the P and F will do all the cooking to provide a bountiful seafood meal.
Our next P and F meeting is on Wednesday 10th April at 7pm in the Church Hall – All are welcome.
KEEP THE DATE: Thursday 16th May 2013, from 7pm Mothers Day themed Dinner – if you heard about last year's one you know you are in for a fun night. More information next Newsletter.